The electrical engineering undergraduate program at Ole Miss has been accredited since 1969
---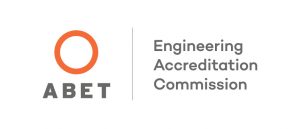 Our B.S. Electrical Engineering degree is accredited by ABET's Engineering Accreditation Commission. ABET has accredited more than 3,000 academic programs in computing, engineering, engineering technology, and applied and natural science disciplines.
Program educational objectives
The graduates of the program within 3-5 years after graduation will:
Demonstrate professional engineering competence by holding positions of increasing responsibility in industry or government
Continue to improve their technical skills, knowledge and understanding through research and development activities, continuing education credits and pursuit of professional certificates
Attain advanced degrees and work in academia, government agencies or high-tech companies
Generate professional publications, develop patents and foster entrepreneurship
Student outcomes
The graduates of these programs will demonstrate:
an ability to identify, formulate, and solve complex engineering problems by applying principles of engineering, science, and mathematics
an ability to apply engineering design to produce solutions that meet specified needs with consideration of public health, safety, and welfare, as well as global, cultural, social, environmental, and economic factors
an ability to communicate effectively with a range of audiences
an ability to recognize ethical and professional responsibilities in engineering situations and make informed judgments, which must consider the impact of engineering solutions in global, economic, environmental, and societal contexts
an ability to function effectively on a team whose members together provide leadership, create a collaborative and inclusive environment, establish goals, plan tasks, and meet objectives
an ability to develop and conduct appropriate experimentation, analyze and interpret data, and use engineering judgment to draw conclusions
an ability to acquire and apply new knowledge as needed, using appropriate learning strategies
---
Enrollment data
| Electrical engineering | Fall enrollment | Degrees awarded * |
| --- | --- | --- |
| 2016-2017 | 134 | 23 |
| 2017-2018 | 115 | 26 |
| 2018-2019 | 94 | 18 |
| 2019-2020 | 94 | 25 |
| 2020-2021 | 84 | 25 |
| 2021-2022 | 73 | |
* The reporting period for degrees awarded includes the prior summer semester through the spring semester of the academic year, in line with the Mississippi Institutions of Higher Learning requirements.  E.g., the 2016-17 figure includes students graduating in August 2016, December 2016 and May 2017.
---
Helpful info
Our mission
Research
Accreditation – Computer engineering
Accreditation – School of Engineering